This week's Fun Monday is being hosted by
Heather's Recipes
.
The Rules:
The topic: Sports. More specifically, the sports team that you are rabid about. Maybe you love the Dallas Cowboys. Maybe you never miss a Cincinnati Reds game. Perhaps you follow every goal of the Fighting Illini Water Polo team. Or maybe nobody can tear you away from a Manchester United game. I want to hear about whatever sports team(s) that make you cry tears of joy when they win and tears of sorrow when they lose.

And on the flip side, I also want to hear about the teams you love to hate and why you hate them so much. You know what I mean. Like when you meet a new friend who is really cool and fun, and then you find out they root for your most hated rival team and you actually consider for a moment that you can't be friends anymore. Those teams.

That's it. And if you don't like any sports at all, I don't know what to say to you. Tell us something else you are impassioned about.
Robocop's Comment:
I am not a die hard sports fan anymore. But given the opportunity, I can enjoy an occasional football game.
On my rare moments of NFL fanaticism, I am a New York Giants fan. Two silly reasons really. First, they are as close to my old hometown team I can get without having to root for the Buffalo Bills (the best Second Place Team the NFL has ever produced). Second, they made it to last years Superbowl, and the Dallas Cowboys did not.
As for a team I rally love to hate: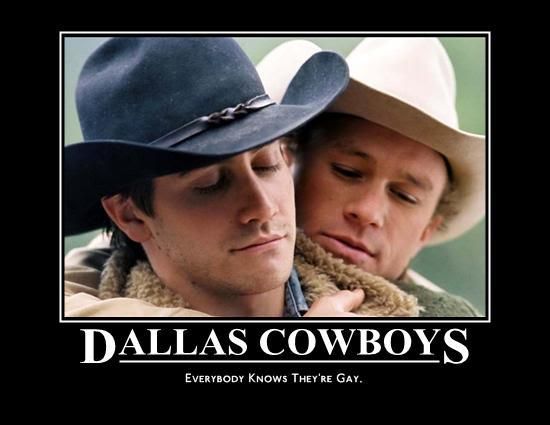 I hate the Dallas Cowboys. Why? Because a good number of them will probably end up being "customers" of mine. What a collection of thugs. Do you know what they call a dope deal in a stadium? A huddle. They are living proof that money will never change a street punk.
Well,that's it. Enjoy Fun Monday!